Thanks everyone for your amazing support of ACE Online. Here are the very latest updates and start dates for courses in high demand.
Starts very soon. Hurry to Join the Class
CHC33015 Certificate III in Individual Support
Apply now, start anytime:
BSB30115 Certificate III in Business
BSB40515 Certificate IV in Business Administration
CHC43115 Certificate IV in Disability
CHC43015 Certificate IV in Ageing Support
CHC43415 Certificate IV in Leisure and Health
CHC52015 Diploma in Community Services
How ACE Online works: –
Students log into virtual classroom sessions with their ACE trainer, join their timetabled tutorials, access their ACE learning resources and are further supported with individual phone mentoring discussions with their assigned ACE trainer. All of this is via our online learning platform Canvas. It is world class. It is just like being in one of our classrooms.
Thanks for caring, let's stay safe, be kind and innovate.
BTW, that's one of our amazing ACE trainers Mel Duck. Mel's Certificate III in Individual Support class is up and running Online. Love your work crew.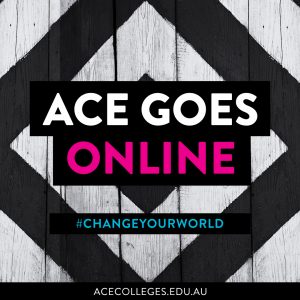 ---