Ask a question
To Apply choose a location
Course
Description
This qualification is a superseded qualification. We are no longer taking new enrolments, and existing students must complete by December 2023. For further information, please phone our Customer Care team Burleigh 07 5520 3026 / Lismore 02 6622 1903 / Murwillumbah 02 6672 6005. 
Play an integral role in the health and community services industry. This qualification will equip you with the knowledge and skills you need to provide important, person-centred support to vulnerable members of the community (including disadvantaged groups, children, and families). Help others feel empowered and safe, in an engaging and rewarding career.
Use this qualification to work in a range of community service, case work or case management contexts. This may involve the development, facilitation, and review of service programs, client risk assessment, and responding to crisis situations. You could also be required to provide supervision to other workers and volunteers in managing their daily tasks.
Learn specialised skills to succeed under broad direction from senior management, boost your interpersonal communication and develop your capabilities to provide advocacy using sociological thinking in your approach.
If you are employed in the sector you may be eligible for RPL (Recognition of Prior Learning) which can significantly decrease the time required to complete your qualification.
PRE-ENROLMENT REQUIREMENTS
Students will be required to complete and pay for a National Police Clearance prior to enrolment in this course.
YOU RECEIVE

With our Connected Learning study mode, you can study from anywhere and achieve your goals. Maintain work/life balance with self-paced learning on our e-learning platform, along with scheduled mentoring from our industry-expert trainers.
REALLY GO PLACES
Successful completion of this program may assist students to gain entry into further study and/or may contribute towards study credits. Go here for your Health & Community career pathway map and begin.
WHERE TO NEXT

Select the ACE location closest to you from the tabs below to explore course start dates and download detailed course information. The course fee is determined according to your personal circumstances, you could be eligible for low fee or fee free training. Please contact the College to discuss your eligibility.
REAL WORLD JOBS
Social Housing Coordinator / Community Services Care Manager
NATIONAL STUDENT OUTCOMES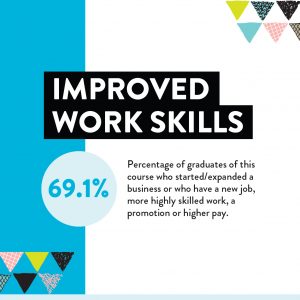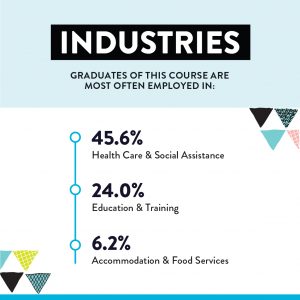 NSW Fees
Concession Co-Contribution Fee
First Qualification
$4420
Second Qualification
$4970
Non-subsidised Fee
Queensland Fees
Subsidised Fee
Concession Co-Contribution Fee
$240 ($15 per unit)
Co-Contribution Fee
$320 ($20 per unit)
Non-subsidised Fee
To view more details
choose your location