Ask a question
To Apply choose a location
Course
Description
This course is Fee Free for eligible Northern Rivers students.
To explore your eligibility GO HERE, or phone our Customer Care team Lismore 02 6622 1903 / Murwillumbah 02 6672 6005. 
This qualification is ideal for people working in a range of community settings and client homes, who want to move up a level. You may already have prior training and experience in disability care and are looking to advance your career opportunities.
You will have an existing understanding of how to provide training and individualised support that empowers people with disabilities to achieve greater levels of independence, self-reliance, community participation and well-being.
Successful completion of this course can open up a range of possibilities for senior roles in the sector (Care Service Team Leader, Care Supervisor, Coordinator of Volunteers and more). In these higher-level roles you will use a person-centred approach to working without direct supervision and or supervise and coordinate a small team.
This Nationally Recognised qualification will prepare you to identify client rights, concerns, and interests; develop, implement, and evaluate client programs; and take responsibility for maintaining legal and ethical compliance through the creation of policies and procedures. Everything you need to move forward in this sector.
With our Connected Learning study mode you can complete this course from anywhere and achieve your goals. Maintain work/life balance with self-paced learning via our e-learning platform, along with scheduled mentoring from our industry-expert trainers. Plus, there any only 7 units to complete to gain this qualification if you already hold a Certificate III in Aged Care (or Individual Support) and are working in the industry.
PRE-ENROLMENT REQUIREMENTS
Students will be required to complete and pay for a National Police Clearance prior to enrolment in this course.
REALLY GO PLACES
Successful completion of this program may assist students to gain entry into further study and/or may contribute towards study credits. Go here for your Health & Community career pathway map and begin.
WHERE TO NEXT
Select the ACE location closest to you from the tabs below to explore course start dates and download detailed course information. The course fee is determined according to your personal circumstances, you could be eligible for low fee or fee free training. Please contact the College to discuss your eligibility.
REAL WORLD JOBS
Disability Officer – Day Support / Disability Support Worker
NATIONAL STUDENT OUTCOMES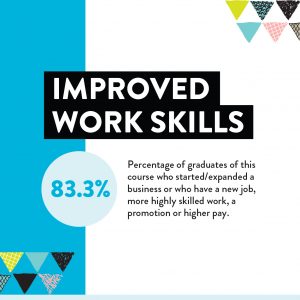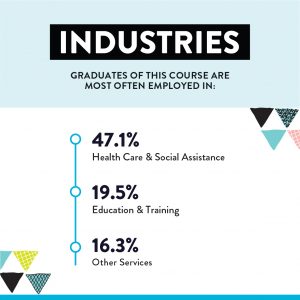 Available in Burleigh Waters, Lismore. see below for details
NSW Fees
Concession Co-Contribution Fee
First Qualification
$1990
Second Qualification
$2320
Non-subsidised Fee
Queensland Fees
Subsidised Fee
Concession Co-Contribution Fee
$140 ($10 per unit)
Co-Contribution Fee
$168 ($12 per unit)
Non-subsidised Fee
To view more details
choose your location