NSW FEE-FREE TRAINING
NSW Fee Free – giving people the skills businesses need
NSW Fee Free improves access to training for young people, job seekers, First Nations People, unpaid carers, women undertaking study in non-traditional trades and certain categories of visa holders.
It does this by offering:
selected full and part qualification courses
selected courses at TAFE NSW and other Smart and Skilled contracted training providers, including Adult and Community Education providers
enrolments between 1 January to 30 June 2024, depending on eligibility and until allocation is exhausted.
Who is eligible?
Smart and Skilled provides eligible students with:
an entitlement to government-subsidised training up to and including Certificate III
government funding for higher-level courses (Certificate IV and above) in targeted priority areas.
Under Skills NSW, you may be able to study a fee-free course if you are:
15 years old or over
no longer at school
living or working in NSW
an Australian citizen, permanent resident, humanitarian visa holder or New Zealand citizen.
Other eligibility conditions
Your eligibility is not affected if you have completed a vocational education and training (VET) course, including a school-based apprenticeship or traineeship, as part of your high school education.
There are some exceptions to the eligibility conditions described above, such as for Aboriginal people.
Nationally Recognised Training courses available:
Full qualifications available at ACE Community Colleges, under NSW Fee Free training are:
CHC30121 Certificate III in Early Childhood Education and Care
CHC50121 Diploma of Early Childhood Education and Care
CHC33021 Certificate III in Individual Support
CHC43015 Certificate IV in Ageing Support
CHC43121 Certificate IV in Disability Support
HLT23221 Certificate II in Health Support Services
All students seeking to enrol in the NSW Fee-free training are required to contact ACE Community Colleges Lismore on 02 6622 1903 or Murwillumbah 02 6672 6005 to discuss your eligibility, allocation availability and training preferences. More information on the NSW Fee-free training can be found here.
---
SMART AND SKILLED
This is a reform of the NSW Vocational Education and Training system. Under Smart and Skilled the NSW Government contributes to the cost of each course with the student paying the balance.
Eligibility
You are eligible for Smart and Skilled Funding if you are:
• 15 years old or over, and
• no longer at school, and
• living or working in NSW (or an Aboriginal or Torres Strait Islander person living in specific NSW border areas),  and
• an Australian citizen, Australian permanent resident, Australian permanent humanitarian visa holder or New Zealand citizen, and
• or are a NSW apprentice or trainee.
For more on the Program visit the Smart and Skilled website or the Vocational Education & Training page.
Eligible qualifications
Explore all accredited qualifications eligible for Smart and Skilled funding at ACE Community Colleges: Business, Early Childhood, Community Care, Life Skills.
All students enrolling in Smart and Skilled funded courses are required to read our Subsidised Training Fact Sheet and declare they are eligible for enrolment. Students must also consent to the information use and disclosure arrangements of the NSW government. This training is subsidised by the New South Wales Government.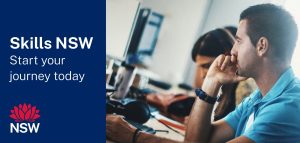 ---
SKILLS CHECKPOINT FOR OLDER WORKERS PROGRAM
The Skills Checkpoint for Older Workers Program (Skills Checkpoint) and the Skills and Training Incentive (the Incentive) is an initiative of the Australian Government. It is an opportunity for employers to assist their workers to update their skills so both businesses and employees will be better prepared to adapt to change and future opportunity. It also prepares employees to build their skills and plan the next stage of their job or career.
The Incentive provides up to $2,200 (GST inclusive) to fund training opportunities linked to an individual's current job (upgrading skills), a future job opportunity, or an industry, occupation or skill in demand. Training can be either accredited or non accredited as long as it has been identified in an individual's Skills Checkpoint assessment. Either the individual or the employer must match the government contribution.
To be eligible you are:
An Australian Citizen or permanent resident;
Aged 45 to 70;
Currently employed, working full time, part time, or casual (15 hours per week or more);
Not a Centrelink/Job Active client; AND
Not been unemployed for more than 9 months.
Download more information on this program:
Skills Checkpoint – Employer Fact Sheets
VERTO Skills Checkpoint – Participant Fact Sheets
Nationally Recognised Training courses available:
All students seeking to enrol under this program are encouraged to contact ACE Community Colleges Lismore on 6622 1903 to discuss your eligibility, course options and preferences, plus we can assist connect you with Verto.
---
ADULT AND COMMUNITY EDUCATION (ACE) PROGRAM

Funding under Smart & Skilled is provided by the NSW Government to assist learners who need extra support or assistance with reading, writing and numeracy. Eligible learners include:
• Australian citizens / permanent residents or humanitarian visa holders who have very low literacy, language and numeracy levels
• people with limited employability skills
• people who are unemployed or underemployed
• students with a disability
• students who are commonwealth welfare recipients
• young disadvantaged students who need assistance transitioning to further study
• people who have other barriers to Smart and Skilled entitlement.
Training can be provided in a range of areas including:
• Foundation Skills and Job Skills Training
• Community Services
• Aged Care
• Business
• Digital Technology
• Aboriginal Driver Training.
ACE Community Colleges is an approved Smart and Skilled provider of these courses: Business and Work Skills, Aged Care and Community Services, Disability Programs, English Language, First Aid, IT and Computer Training, Short Courses.
All students enrolling in these courses are required to read the Fact Sheet and Declaration.
---
ABORIGINAL PROGRAMMES
ACE Community Colleges has maintained strong links with local Aboriginal Communities over many years. We are dedicated to improving outcomes for Aboriginal people through educational programs, in particular through assisting Aboriginal people gain their driver's licence, which can open the door to many new employment, study and life opportunities. Go here for more on the Aboriginal Driver Education Program. Students enrolling in Driver Education programmes are required to read the Transport for NSW privacy statement.
---
NON ACCREDITED TRAINING
Non accredited training is full fee only.

Download the ACE Community Colleges Student Handbook to read more about funding possibilities, eligibility and associated criteria in your State – Go here for your copy of the Student Handbook.
---