ACE Community Colleges is now accredited to deliver Mental Health First Aid training.
The Mental Health First Aid (MHFA) course is for anyone who is not necessarily employed as a counsellor, however finds themselves in a counselling role. You could be a frontline worker in an administrative role, a nurse, teacher, coach, support worker or complimentary health practitioner.
You will learn a practical counselling framework, how to offer initial support to adults who are developing a mental health problem, experiencing a worsening of an existing mental health problem or in a mental health crisis, until appropriate professional help is received or the crisis resolves. Additional you will develop you skills around how to recognise the signs and symptoms of the common and disabling mental health problems, how to provide initial help, where and how to get professional help, what sort of help has been shown by research to be effective, and how to provide first aid in a crisis situation.
Developing mental health challenges addressed in the course:
• Depression
• Anxiety problems
• Psychosis
• Substance use problems
Mental health crisis situations addressed in the course:
• Suicidal thoughts and behaviours
• Non-suicidal self-injury (sometimes called deliberate self-harm)
• Panic attacks
• Traumatic events
• Severe effects of drug or alcohol use
• Severe psychotic states
• Aggressive behaviours
Importantly the MHFA course gives you the knowledge to deliver mental health first aid using the MHFA Action Plan ALGEE. Course participants receive a copy of the Standard MHFA Manual to keep and a Certificate of Completion.
Go here to see course dates in 2018, apply online now and secure your place.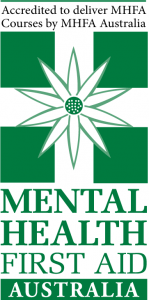 ---