Ask a question
To Apply choose a location
Course
Description
This course teaches participants how to offer initial support to adults who are developing a mental health problem, experiencing a worsening of an existing mental health problem or in a mental health crisis, until appropriate professional health is received, or the crisis resolves.
KEY LEARNING TOPICS:
You will learn about the signs and symptoms of the common and disabling mental health problems, how to provide initial help, where and how to get professional help, what sort of help has been shown by research to be effective and how to provide first aid in a crisis situation.
MANUAL:
Students completing the course receive a copy of the Standard Mental Health First Aid Australia Manual to keep and a Statement of Completion.
MHFA courses are open to all members of the community, everyone aged 18 years and above. In particular, it is recommended that MHFA becomes prerequisite for people employed in human services.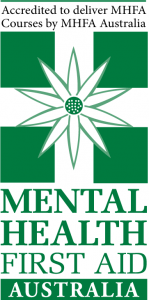 Available in Burleigh Waters, Casino, Lismore. see below for details
To view more details
choose your location
Location:
Burleigh Waters
Start Date:
Thank you for supporting our First Aid Program, this course is delivered On Demand. Please contact our customer care team for possible dates
Training mode:
Face-to-face
Training mode:
Face-to-face