Some days are just crazy good – this is one of them. The latest Tech Savvy Seniors group celebrated their graduation. Hats off to every single senior you are amazing. The Star of the team is Frank, he'll be 100 this week! Frank says "I enjoyed the class one cannot not learn too much. I'll probably do it again it possible". Frank, you are an inspiration.
ACE has had the amazing privilege of assisting hundreds of seniors to build their confidence with new technologies for a few years now; it's such a rewarding and positive experience for everyone.
The absolute best way to support our seniors through the tech-savvy program is with step-by-step demonstrations and an additional one on one support which our students volunteer to do. We are really proud of our graduates for their commitment to helping others and it's truly wonderful to see our community working together.
"The one thing that unites every group of seniors taking part in the program is that they are 100% eager to learn and 100% ready to absorb everything. By the finish the team really know a huge amount and can safely navigate their way around the web, their phone, iPad and so much more; and they have so much fun.
The Tech Savvy Seniors program is funded by Telstra and Department of Family and Community Services.
Keep a check on our website for 2018 Tech Savvy Seniors course start dates.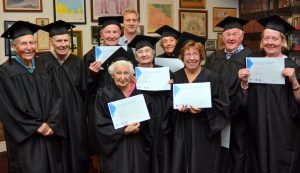 ---