Frank Adcock is a super popular guy around our College in Lismore – Frank is our native bee specialist and his short course is 2018's most popular lifestyle inspired option on the ACE programme.
We thought it was about time you got to know Frank a little.
ACE: Frank how did this all get started?
FA: Acquired the first Tetragonula carbonaria native bee hive in 2001 as a trial to pollinate macadamias. This small start evolved into a business, "Nashua Native Bees", which supplies hives to pre-schools, primary and secondary schools, home gardens and growers of macadamias, avocados and exotic fruits. In addition I deliver workshops to schools, landcare groups as well as ACE Lismore. I've been training people since March, 2012. "Nashua Native Bees" have developed a suite of hives to suit our area for pollination and extraction of native bee honey. His business has delivered over 1500 hives to the community.
ACE: Keep going Frank we think you are on to something special. Thanks so much.
Next Keeping Native Bees workshop and field trip is coming up soon – join in.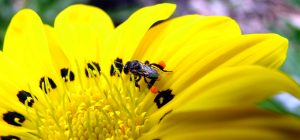 ---