Live Life Happy (edition 2) is just off the press and jam packed with fresh mini lifestyle courses just perfect for you.
For all our friends with zero spare minutes tap here for a quick download.
If you have 60 seconds lets browse the possibilities.
Artistry & Creativity – one thing for certain you will be happier for the experience, now you have to love that.
Travels – For beginners, travellers and the adventurists. Just brilliant.
Wellbeing – wash your stresses away – feel clearer, calmer and just better.
Relaxation… let's have more of that.
There are now 50+ local businesses helping us out. We've been busy all over the neighbourhood – check your local cafe, general store or coffee spot for Live Life Happy #2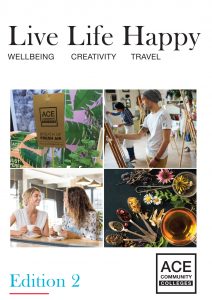 ---