Getting your P's is a rite of passage for anyone, and Emma Grant was super focused on reaching that goal.
When she heard about ACE's Driving Program offering driving lessons to eligible participants, she knew this was a must-do. "The main reason I wanted to get my license was to gain independence to travel to and from work and to visit family and friends during the weekends. The trainers and the experience with the program were so helpful, it was the help and support I needed. It taught me a lot and I was able to take that practical experience with me when going for my P's test."
And this superstar shone through her provisional license test, passing with flying colours last week. The verdict? "I have achieved so much and without the help of ACE and the Driving Program I wouldn't be where I am today. I've even taken a road trip out to Tweed Heads from Lismore which was amazing".
But it doesn't end there. Emma says the confidence she gained from kicking goals motivated her to apply for ACE's Receptionist position, a title she now holds proud. Saying "Yes" to opportunity has led her down the path she always dreamed. "I would say to anyone who is hesitant about joining the program, you have nothing to lose but everything to gain, starting with your license! I feel great about life."
Thanks for sharing Emma, you're a huge inspiration.
If you'd like to take the next step in reaching your provisional license goals, check out the Driving Program here.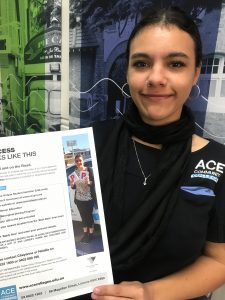 ---