Denise Goode has a lot to smile about after successfully completing her Certificate IV in Ageing Support – all via external, online learning with trainer Mel Duck.
Being an existing employee in the community care industry, Denise was looking for an opportunity to do more for her clients and expand possibilities for career flexibility. ACE's online study option was perfect, allowing her to learn and complete assessments in between shifts at work.
"The best bit was the ability to work at my own pace when I was free to study and being able to walk away when I needed to clear my head, so I could come back fresh.
When I first signed up with ACE they were very helpful, friendly and supportive. My trainer was fantastic, I can't thank her enough for all her support, assistance and guidance."
As for the future – it looks golden. "I am more confident in what I am currently doing and look forward to the opportunity to utilise more of what I have learned during my studies".
Change your world. Explore course options in our online learning mode.
Community Care courses online 2021.
CHC33015 Certificate III in Individual Support
BSB30115 Certificate III in Business
CHC43115 Certificate IV in Disability
CHC43015 Certificate IV in Ageing Support
CHC43415 Certificate IV in Leisure and Health
CHC52015 Diploma of Community Services
Early Childhood Education & Care courses online 2021.
CHC30113 Certificate III in Early Childhood Education and Care
CHC50113 Diploma of Early Childhood Education and Care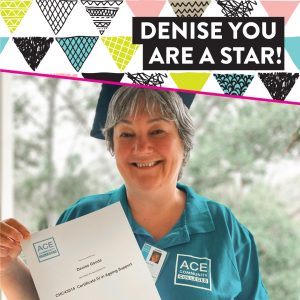 ---