We know from decades of supporting students and our communities just what a life changing experience skilling can be. The big message out of all our campus locations is that no matter where you are on your career pathway, there is always a plus side, often unexpected, when you connect with new ideas, solutions and training.
ACE Community Colleges is proudly supporting National Skills Week 2023 which is an annual event dedicated to raising the profile and status of vocational learning, dispelling some outdated myths and showcasing career opportunities for all Australians.
Here at ACE we are celebrating student success! The team will be publishing on the Blog through-out the week student stories. You will get to hear about the grit, determination and never give up attitude that saw goals achieved (well, smashed really) and new futures created.
To every student, past and present we say congratulations – for deciding to be the change you want to see in the world, connecting with a better work / life balance, and bridging across to your new career. Wow! Helping you along that journey means a lot. Hats off to each-and-every one of you.
Onward we go – and here is today's student story!
"ACE was always going to be my choice, it had the flexibility for me to study while I worked, using online learning, says new graduate Dean Judd.
The big unexpected was that I actually liked it!
I genuinely don't like studying, but doing my course through ACE with Karen as my trainer I gained a confidence I didn't think I had when it comes to education. I actually finished not one, but two qualifications.
Along the way I changed from thinking I would work in disability to exploring aged care. On placement at Uniting Aged Care in Goonellabah I realised pretty quickly that I had a great relationship with the residents and wanted to make a difference in their lives. It is far more rewarding work than what I was previously doing.
I was lucky enough to secure employment with Uniting Aged Care shortly after my placement, and have been able to work the days and hours I want while I'm still learning about the industry. I've even been a buddy to other ACE Community Colleges students which has been interesting because I was only just there myself!
Honestly, just do it. If you're not doing anything, what do you have to lose by studying?"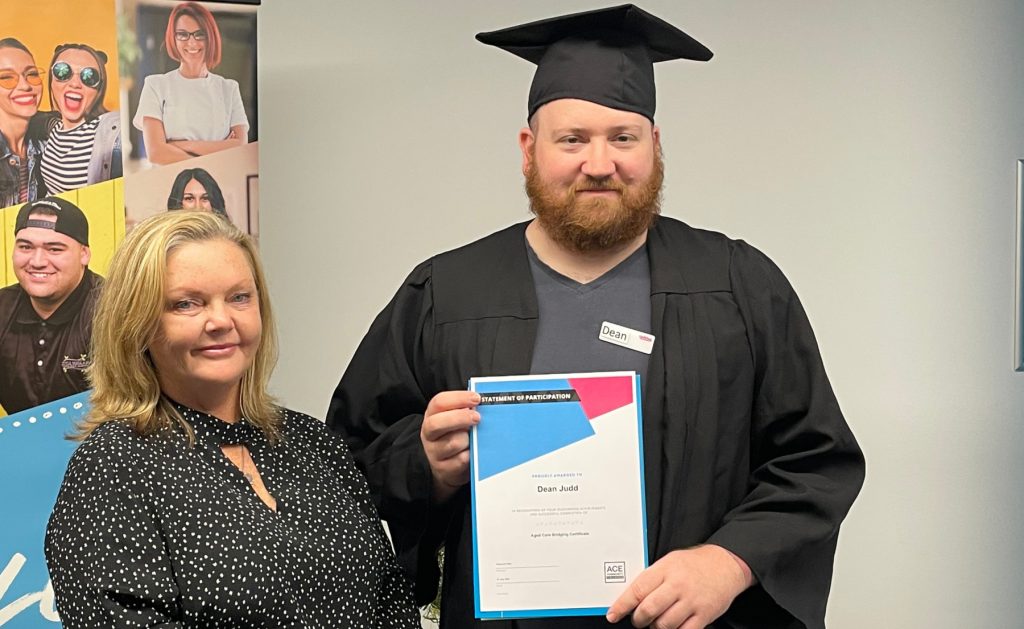 Find out more about ACE courses and intakes, fee free in NSW, QLD options and how to apply for a course.
Find out more about National Skills Week 2023 here.
#nationalskillsweek
---