An enrolment at ACE was Nicole Trotter's first step to a fresh perspective on life, not to mention a brand-new career. Approaching her employment and training coach Amanda at JobActive agency HELP Nerang, she was hopeful for change but sceptical on results.
On Amanda's advice, Nicole stepped out of her comfort zone and started the Bounce Program.
With trainer Prue Howard's encouragement, classmates support and a new toolkit for success, she switched her insecurities and doubts for self-belief in just 3 weeks. Developing a career pathway plan with Prue, Nicole discovered she had always wanted to work in aged care. It was time to turn her dream into a reality – so she enrolled in ACE's Certificate III in Individual Support.
Her trainer Mel Duck says, "Nicole was very shy and nervous, worried about taking on the challenges of study. But she showed up to every session, focused on getting the job done and built rapport with staff and residents out on the floor during practical. Her compassionate, caring nature came through a little more every week and I watched her make an amazing transformation."
Her hard work and a positive attitude paid off. Last month Nicole successfully completed her studies and received her qualification. And it doesn't stop there. Just this week she attended a promising job interview with a potential employer – and got the job!
This journey has been a wonderful realisation for Nicole of her true potential. She has found the confidence to take control of her own life and reach her personal goals. Congratulations Nicole. It's safe to say we are all inspired.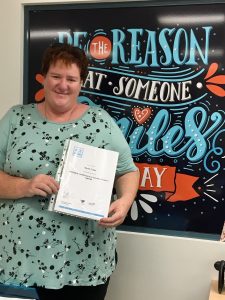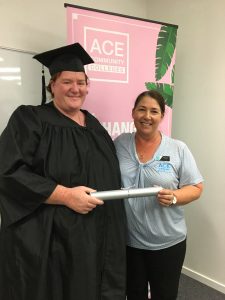 [Here's Nicole at her Graduation Day with trainer Mel Duck]
---