At ACE we believe that 2018 is not done, that you can make a huge difference to your career prospects and now is the time to pick up the phone and get your name on the class list. We are thrilled to share our Summer School program this week, it is 100% brilliant for anyone wanting to start careers in education or community services – this is where you begin.
Recently we were asked why people should consider Early Childhood Education as a career. We did a little thinking and here is the snapshot – we have a growing population, there have been changes to national policy and parents are seeking to find a strong balance between family and their career. This means there is increased demand and strong employment outlook for early childhood professionals.
Barely a week goes by without a new announcement in the Community Care sector. This space is constantly evolving, diversifying its services and growing rapidly as a career of choice. In our experience people are drawn to this pathway because it offers a large selection of client areas to work in, variable care settings, care types, opportunities for advocacy and with more than 50 different roles it offers significant career building possibilities.
The Burleigh Summer School at ACE Community Colleges this year offers entry level Certificate III courses to get you started in both these sectors. Please hurry with your application; classes commence in early December.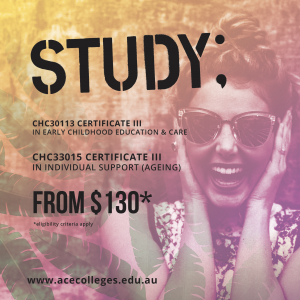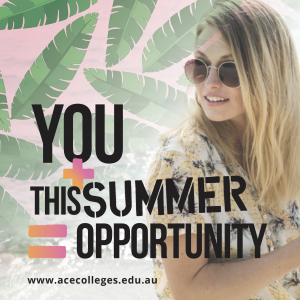 ---