We are thrilled to welcome two talented new trainers to the ACE family on the Gold Coast. Sharon and Ash are already busy with their students and loving their roles with the Colleges. Here's a little insight into their careers and life passions.
Sharon Hardy joins the team as a Foundation Skills Educator. She has an impressive 25 years teaching and coaching experience in several industries including dance, performing arts, personal development and business. Sharon clearly connects with students through passion for human potential, humour, and flexible training methods to suit individual needs. Her aim is for students to leave the course with greater self-belief and motivation than when they arrived.
Ash Ehsani has a dual role with ACE as both a Community Care & Foundation Skills Educator. Ash has a huge repertoire of skills and knowledge in many fields. Along with Community Services, his areas of expertise include Engineering, Mathematics and physics, Hospitality and Management. Ash balances work as a part-time chef, leader for the Afghan community and youth mentor along with ACE.  "Watching people change their attitudes, their lives, and accomplish big things through training is the most rewarding part of being a teacher". In his spare time, he plays and follows all kinds of sports including soccer and NRL.
It's going to be a busy, busy year! Here's Sharon right in the middle of her student group. And Ash preparing for class.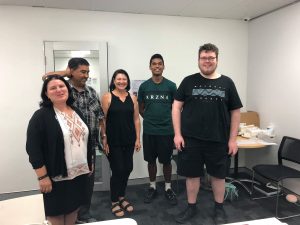 ---