Ask a question
To Apply choose a location
Course
Description
They say a picture is worth a thousand words. Join our fun sessions to develop the basic skills and techniques you need to start expressing your visual ideas with greater clarity. The best bit is all you need is a pencil and paper!
Learn the art of observation and how to draw a convincing picture of the objects you see in the world. Develop your sensitivity in using proportion, line and light and shade. The course is comprised of two (2) sessions delivered on consecutive Saturdays.
TRAINER
This course is delivered by Artist Harry Westera. Harry has enjoyed a life long love for art. Originally trained in still life and portraits in oil painting, he is now primarily painting landscapes in watercolour. Teaching high school Visual Art and adult workshops has created a special opportunity for Harry to pass on the wonderful knowledge and skills that others have taught him. Having taught many painting classes, he realised that students must have some basic drawing skills to give strength and structure to their artwork and developed this course specially to address this issue.
MATERIALS LIST
All course materials are provided within the course fee.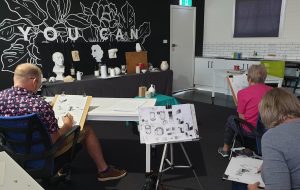 Available in Lismore. see below for details
To view more details
choose your location
Info:
Thank you for supporting our Lifestyle Program, we are thrilled you are keen to sign up for this course. Please contact our customer care team for possible dates.
Training Mode:
Face-to-face