Ask a question
To Apply choose a location
Course
Description
This advanced level of study reflects the role of Early Childhood Educators who are responsible for designing and implementing curriculum in early childhood education and care services. In doing so they work to implement an approved learning framework within the requirements of the Education and Care Services National Regulations and the National Quality Standard.
Early Childhood is a fast moving industry sector, if you are ready to take on more responsibility and higher level roles this Diploma is exactly the right choice to help you achieve your career goals. Talk to our Customer Care Team about RPL [recognition of prior learning]. The recognition gained may considerably reduce the study time needed to complete a qualification.
COURSE DELIVERY STRUCTURE
24 months maximum duration
28 Units
Weekly class based mentoring sessions
Monthly trainer visits to your Centre
12 hours per Unit of directed home studies
4 hours per Unit of research
This course requires the support of your workplace and 240 hours of employment/job tasks, OR will be achieved throughout the course or end of the course.
REALLY GO PLACES
CHC50113 Diploma of Early Childhood Education and Care is a pathway to Bachelor of Early Childhood Education, Bachelor of Education (Primary Education), and Bachelor of Education (Secondary Education).
Successful completion of this program may assist students to gain entry into further study and/or may contribute towards study credits. Go here to see your Education career pathway map and begin.
WHERE TO NEXT
Select the ACE location closest to you from the tabs below to explore course start dates and download detailed course information. The course fee is determined according to your personal circumstances, you could be eligible for low fee or fee free training. Please contact the College to discuss your eligibility.
NATIONAL STUDENT OUTCOMES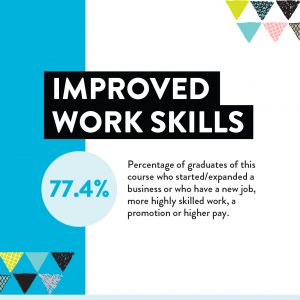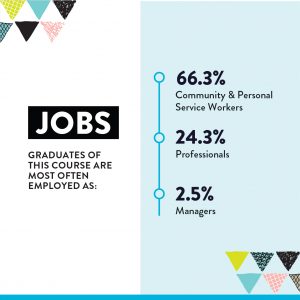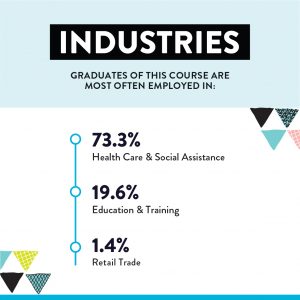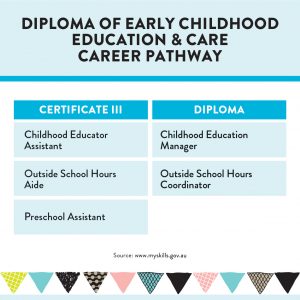 Available in Burleigh Waters, Lismore. see below for details
NSW Fees
Concession Co-Contribution Fee
First Qualification
$4420
Second Qualification
$4970
Non-subsidised Fee
Queensland Fees
Subsidised Fee
Concession Co-Contribution Fee
$420 ($15 per unit)
Co-Contribution Fee
$560 ($20 per unit)
Non-subsidised Fee
To view more details
choose your location