Ask a question
To Apply choose a location
Course
Description
An everlasting floral bouquet, now that sounds brilliant. Dried botanicals are a trending option for gifts and home décor. This course is designed for you to dip your toes into the floristry world and learn how to make these beautiful arrangements yourself. A perfect way to indulge your creative side using dried flowers.
During this 3-hour class you will be guided in the construction of two dried flower designs, a simple dried flower bouquet and a dried flower arrangement. The class provides practical demonstrations on the construction of a flower arrangement and a hand tied bouquet using a mixture of on trend dried flowers. You will be guided to create your own masterpiece ready to take home and enjoy for months to come.
All materials for this class are provided with each hand-crafted design for you take home and enjoy.
TRAINER
Inspired by a love of flowers, Leena Martens began her floristry career in 1997. With over 20 years experience in the industry creating floral designs for weddings, events and corporate clients. Leena followed her passion for training by teaching Floristry at Technical Colleges in Sydney for over seven years. Now living in the Northern Rivers, Leena has embarked on a new chapter in her career with the opening of her own freelance business that specialises in floral workshops for the novice as well as those who just love to work with flowers.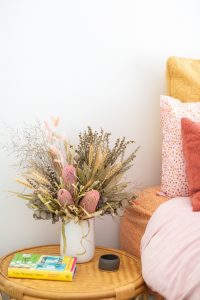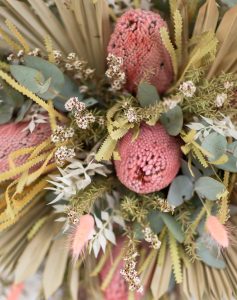 Available in Lismore. see below for details
To view more details
choose your location