Ask a question
To Apply choose a location
Course
Description
This course is Fee Free for eligible Northern Rivers students.
To explore your eligibility GO HERE, or phone our Customer Care team Lismore 02 6622 1903 / Murwillumbah 02 6672 6005. 
Kickstart a career with your passion for community and make a difference to the lives of people living with a disability. This is an entry-level qualification, so there is no prior experience necessary. A match for anyone seeking a fulfilling role in disability services.
Combine your caring, resilient and compassionate nature with this training to provide both physical and emotional support to clients and their families. Learn how to follow an individualised plan to provide the best possible person-centred care; support independence and quality of life; facilitate empowerment; and promote social inclusion.
Develop your effective communication skills, along with the legal and ethical requirements for consideration while working with diverse people. You will also gain understanding around healthy body systems and best practices for infection control.
Use this Nationally Recognised qualification to boost your employability as a disability support worker in community or residential settings. The role sees you assisting clients with a range of daily tasks and coordination of activities to promote well-being. Successful completion of this qualification will provide you with the transferable skills and knowledge you need to enter this growing industry with confidence.
Make the most of our Connected Learning training experience to get you there – along with support from our industry expert trainers and valuable work placement opportunities. If you already hold an existing Certificate III Individual Support, use these specialisation units to expand your skills and employment options. If you have existing experience but need to formalise your qualifications, talk to our Customer Care Team about an RPL (Recognition of Prior Learning) pathway.
PRE-ENROLMENT REQUIREMENTS
Students will need to obtain the following clearances:
Working with Children Check (NSW) or Blue Card (QLD) – obtained at their own expense prior to course commencement
Disability Worker Screening – obtained prior to work placement
Students will be required to complete and pay for a National Police Clearance prior to enrolment in this course
Evidence of COVID-19 double vaccination must be presented upon enrolment, as students are required to be fully vaccinated against the virus prior to commencing work placement (as per Department of Health regulations).
REALLY GO PLACES
Successful completion of this program may assist students to gain entry into further study and/or may contribute towards study credits. Go here for your Health & Community career pathway map and begin.
WHERE TO NEXT
Select the ACE location closest to you from the tabs below to explore course start dates and download detailed course information. The course fee is determined according to your personal circumstances, you could be eligible for low fee or fee free training. Please contact the College to discuss your eligibility.
REAL WORLD JOBS
Disability Support Worker
NATIONAL STUDENT OUTCOMES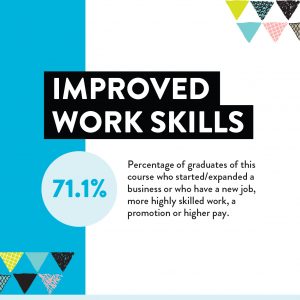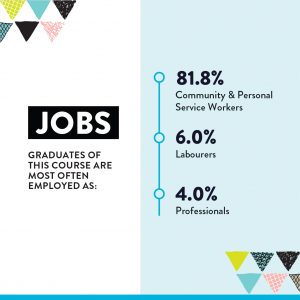 Available in Burleigh Waters, Lismore, Murwillumbah. see below for details
NSW Fees
Concession Co-Contribution Fee
First Qualification
$1450
Second Qualification
$1750
Non-subsidised Fee
Queensland Fees
Subsidised Fee
Concession Co-Contribution Fee
$130 ($10 per unit)
Co-Contribution Fee
$156 ($12 per unit)
Non-subsidised Fee
To view more details
choose your location